The public usually comes across the term "Industrial floor" in parking decks of malls or other public areas. At the first glance, its primary function appears to be to distinguish between the parking spot and communication as well as mark walkway for pedestrians or invalids, or to meet architect's design requirements. Hardly anyone knows, that for surface finishes of these areas the requirements are steeper than meets the eye.
Industrial floors in parking decks
One of their basic uses is to protect concrete constructions from the effects of chemicals that are laid on them during usage. These are mostly road salt, processing liquids and detergents. They also need to be flexible enough to gap possible cracks in the floor and to not cause overall weathering of ferro-Crete construction by the effect of seeped in chemicals.
Simultaneously they need to endure mechanical load which is caused by cars and cleaning machines.
It is always necessary to evaluate and synchronize all requirements for usage of such premises. Different surface properties are required on the base level than on upper open levels or rounded ramps. There is a specific category for parking areas in open areas or rooftops, where the properties of these floors are affected by weather as well UV radiation and temperature changes. It is the rooftop parking that is the most vulnerable due to its placement.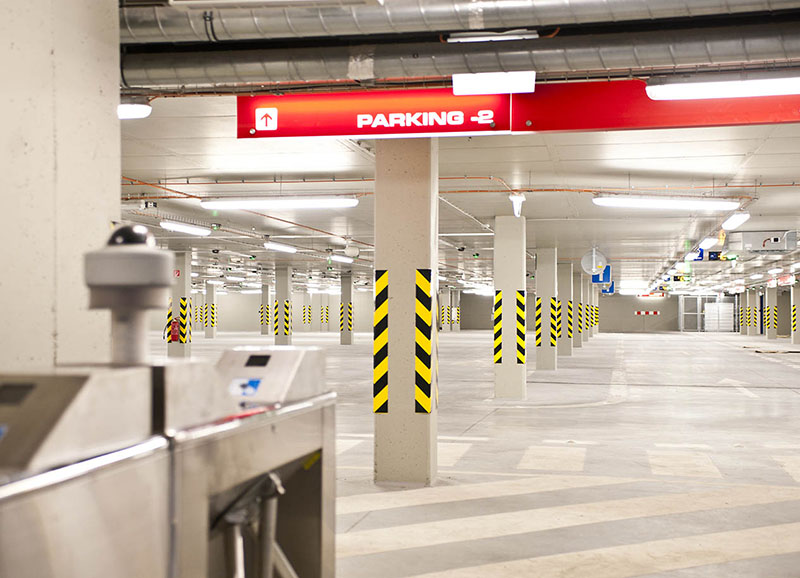 Parking Areas
PRORECO s.r.o., cooperates with foremost producers of surface materials and approaches each parking deck individually. Proposes and applies different systems of surface finishes based on the area type and its placement. In present, we offer multiple different surface finishes. From machine smoothed cement hardener through two-layer hardened system without the crack gaping ability in its basis, mechanically highly resistant surfaces with silicon carbide to multilayered systems containing water-proof flexible membrane.
Well designed solution of industrial floor in a parking deck reduces the expenses of its usage and leads to further safety, easier surface cleaning, more aesthetic look and area clarity, where its visitors will feel safer and more welcome.
Published in magazine Stavebné materiály 6/2016 a na www.asb.sk
Have a look at our parking decks projects