Every high-quality industrial floor belongs to the "good" category. But even in this segment, some types are more popular than others. This is usually because the customer knows that they are ideal for construction and technology for their needs and the implementer has extensive experience with them. Which types dominate the Slovak and European markets?
When a concrete floor is functional and reliably serves its purpose, when it is durable and does not undergo significant changes over time, we are satisfied with it. However, in addition to strict technical and often limiting economic criteria, the choice of the floor type can also be influenced by less rational moments. Aesthetics, sometimes extravagance, or simply popularity come into play. Some types of floors can become a hit at some point.
These "less rational moments" are not detrimental – especially when the floor is realized in an operation where it must represent its owner or user and underline its status. However, consideration of bonus criteria is always possible only if the technical requirements are met. How is this reflected in the construction of modern halls, multifunctional and civic buildings, or production facilities?
Bestsellers that will not disappoint
Demands and realizations speak for themselves: One of the most popular industrial floors is the concrete floor with dispersed reinforcement. Its physical properties predetermine its success. Thanks to the dispersed reinforcement, it acquires high load capacity under static load, long service life, and high resistance to dynamic (moving) load.
Oh, those fibers … What are they?
Scattered reinforcement, these are fibers or wires, most often made of carbon or alloy steel up to a length of 75 mm. They combine small concrete surfaces so that in the end the entire volume of the concrete slab structure is compactly and symmetrically interconnected by the dispersed reinforcement.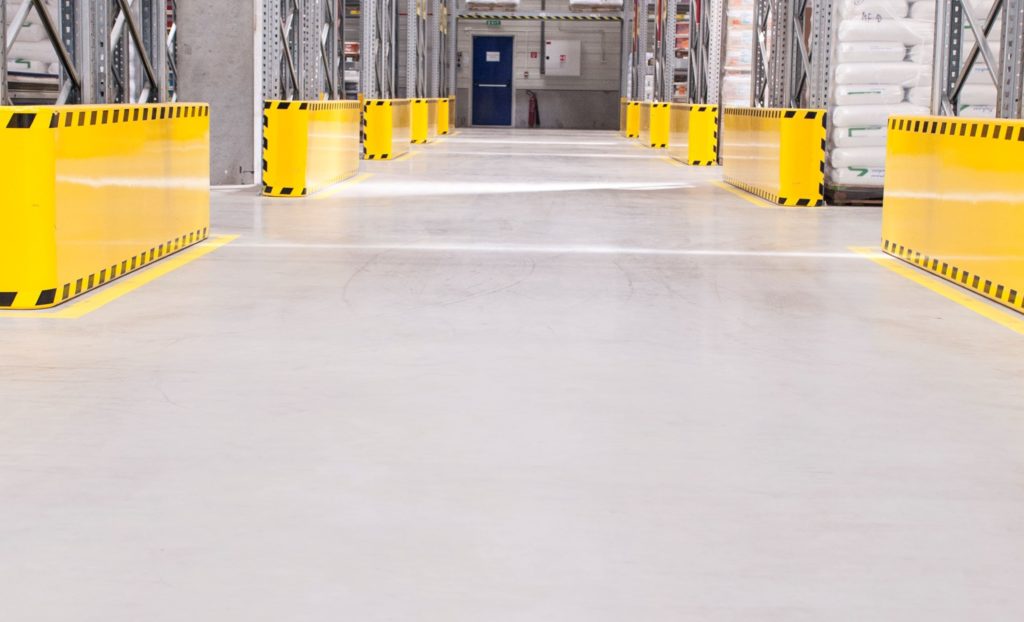 Concrete floor without cut shrinkage control joints with a concrete floor hardener surface treatment.
Steel fibers have different geometric shapes. They are processed in the concrete mix so that even distribution in all directions was achieved. This diffusion is random, but only by correctly determining the type of fibers, their quantity, and the procedure of dosing into fresh concrete, the necessary homogeneity is achieved. Adequate dispersion will then ensure the durability of the floor in any direction. In comparison with the classic concrete floor, it acquires a property called plasticity. Materials can handle the effects of external forces without compromising their cohesion. The realization of such a floor requires knowledge, know-how, and considerable experience of the realizer.
Did you know?
So far, the most frequently realized floor with dispersed reinforcement by Proreco is the type without cut shrinkage control joints with the size of expansion joints up to 40 x 40 m. Besides that, this type eliminates damage to the edges of the joint, the floor looks beautiful and uniform. Any space above it looks generous, airy and removes the visual crampedness of small expansion units. From a technical and practical point of view, it allows for easier maintenance as well as a less complicated solution for the layout of the interior space – whether a hall, warehouse, or production plant – so it is also very well used.
Reliable durable classic
Popular surface treatment is also using a concrete hardener. It is a surface treatment of concrete floors with powder mixtures based on cement and hard additives or even synthetic additives.
In general, this adjustment is very timesaving. It is implemented almost immediately, at a time when the concrete hardens. In the case of other subsequent modifications of concrete surfaces, it is necessary to wait for the beginning of work for approximately 28 days. In the case of surface treatment with concrete hardener, the floor is ready after 28 days and ready for use at full load.
Did you know?
The last treatment of the floor surface with concrete hardener is smoothing with a machine trowel plus treatment with a spray of acrylate resin. This treatment is especially of technological importance – it ensures more even solidification over the entire floor area. At the same time, it closes and impregnates the floor. It protects it from the formation of stains which are often the result of the use of industrial floors.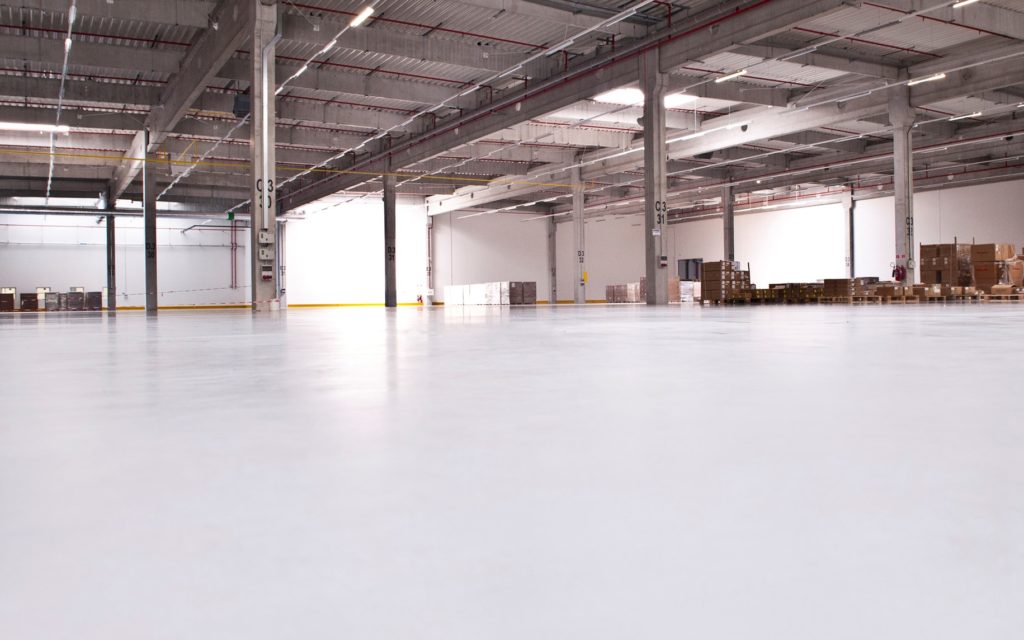 Concrete floor with dispersed reinforcement and surface treatment with synthetic concrete hardener.
Development continues
Each concrete floor can be processed well, and each can provide the required technological properties. However, some types have greater potential to achieve and maintain not only technical quality but also excellent visual performance and high aesthetic value. And it is these products that are in demand on the market.
Today, these are mainly concrete floors with dispersed reinforcement or with concrete hardener surface treatment. But let's not approach it as valid truth. Firstly, because there are other types of concrete floors on offer – some literally tailored to the specific needs of some operation plants – and secondly, because development is progressing. It will certainly bring other new and interesting constructions of concrete floors.
We write about industrial floors professionally and clearly.