Bartos advertising is a creative company, so everything they do, they like to do it themselves using their creative minds. They also "directed" the realization of their new production premises. And that's not very common. The contractor of industrial floors does not normally have the opportunity to consult the idea of the final result directly with the investor. That is why Proreco appreciated DIRECT FEEDBACK on this project, which was positive.
Proreco is usually in the position of subcontractor for the general contractor when it comes to large orders. They now had the opportunity to communicate and consult the assignment directly with the investor. And the assignment was: to create a floor with minimal maintenance, low dustiness, and a high aesthetic impression. A suitable adept to meet these parameters is a concrete floor with a self-levelling screed finish. The specific choice was the polyurethane-cement screed.
It is characterized by a glossy design, scratch resistance and high mechanical resistance. This technology is popular not only in industrial buildings. It stands out wherever the emphasis is on both functionality and attractiveness, i.e., also in commercial and residential areas. In addition, the vapor permeability of this treatment slightly reduces the demands on the thoroughness of the waterproofing, which is located in the lower layers.
Preparation of "self" levelling
Within one week, the already existing concrete floor with an area of 1000 m2 was modified. However, it was preceded by an important preparatory phase. For the mentioned screed to adhere perfectly, it was necessary to blast the concrete slab from the cement laitance. This is done by machine firing many small projectiles at a right angle to the slab. Cement laitance on the surface of the concrete slab tends to break with minimal abrasion.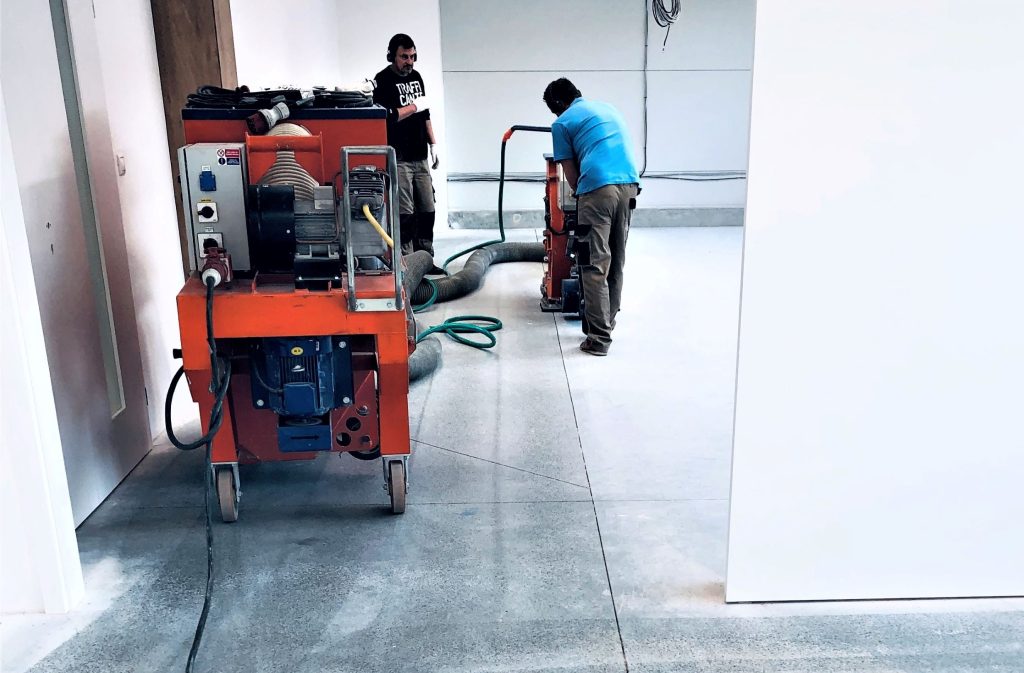 The blasted surface is then cleaned of even the smallest dirt. Without this step, the tiny particles would interfere with the adhesion of the screed. Expansion joints of contracting units are also filled with sealing mortar. Finally, a fine film of epoxy penetration is applied to the cleaned surface for even higher screed adhesion.
Did you know?
The so-called blasting (also called sand blasting) of concrete slab of cement laitance is a specific and very demanding process. It requires maximum readiness – experience, caution, and protective equipment. The shot can bounce off the ground, so it can also cause unwanted injuries.
"Needle" levelling
The application of the selected self-levelling screed on a polyurethane-cement base also requires experience with materials of a similar nature. Regardless of the temperature in the workplace, the workability time of the screed is very short. After mixing with water, its properties change over time, so finding the right levelling time is a condition for success. And how to achieve accuracy? A height-adjustable Scratch plough helps to apply an exact 3-millimeter layer.
In the last step, the screed was deaerated by special rollers. This process is a memento of inviolability. A raw floor finish will not withstand any weight. Any necessary movement on it is ensured by spike shoes that workers wear so they are "levitating" above it. After the applied layer has matured, we get an effective floor with a high surface gloss and high mechanical and chemical resistance.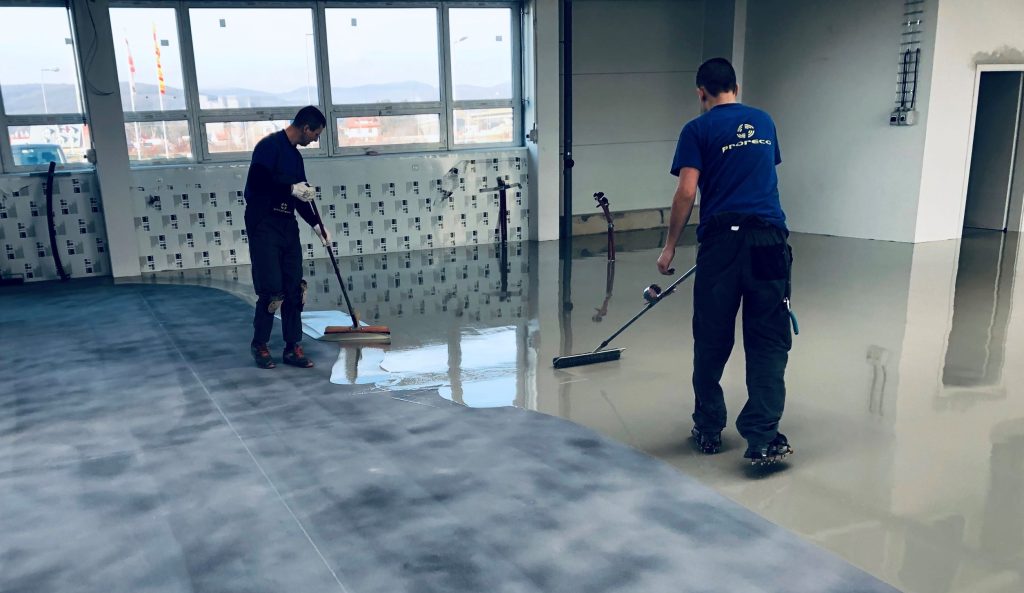 The double combination of perdogrey (light gray) used in the production part of the hall and tastygrey (dark gray) in the administrative part subtly completes the space and creates a pleasant working atmosphere. Of course, when it comes to colours, there are no limits to imagination. We offer a wide range of tailor-made shades for personalizing your own spaces.
The realization of the floor of the production premises of the Trencin´s company Bartos advertising was a pleasant change – from blunt business to a kind cooperation of partners whose time and deadlines were not difficult to meet. On the contrary, it was marked by a positive impression of a constructive approach with a touch of selflessness, resulting from long-term cooperation and good relations.
Ing. Lenka Bartošová: We didn't hesitate over Proreco for a moment
Interview with Ing. Lenka Bartošová, director of Bartos Advertising
How did you find Proreco and why did you choose it for your business premises flooring?
Our company deals with the printing of textiles, promotional and gift items. Proreco is our important customer, so that's why our choice was clear. We didn't have to think about it at all. Proreco is a leader in their field, and they communicate very well with their customers.
You are said to have been actively involved in every step. How did you work on choosing a specific floor type?
We use different types of adhesives in our production. Over time, they get used to form a layer on the floor that can only be removed with solvents. We were specifically looking for a type of floor that could handle this "treatment". Proreco produced a sample that we tested for half a year to see if it really could meet our requirements. It did very well. Yes, I checked the individual steps on the construction site to avoid misunderstandings, but at the same time I was very interested in the process.
And how do you rate the result?
The result is perfect. We have nothing to complain about. We have not yet moved to the new premises, but we are already very happy to have a floor that we do not have to be afraid to use.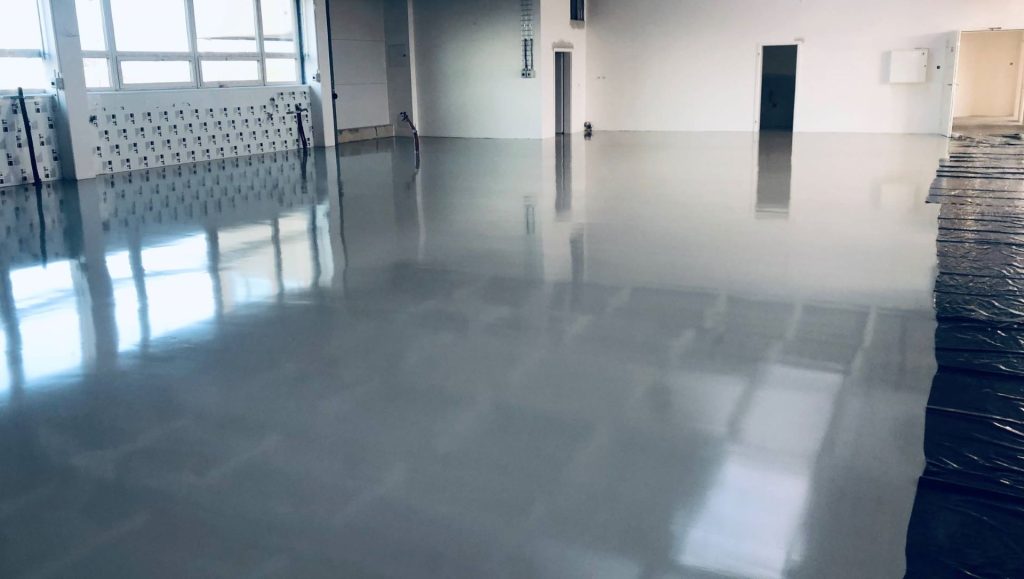 PROJECT FACTS:

Year of realization: concrete slab in 2018, screed modification in 2020
Place of realization: Trencin
Realized area: 1,000 m2
Type of floor treatment: self-levelling screed based on polyurethane-cement
We write about industrial floors professionally and clearly.